Abdul Wasay, 42, is the Director of Service Operations, MEA, at Aetna International. He lives in Dubai with his wife and two children, and has taken part in Ramadan since he was 10 years old.
During Ramadan, a typical day for me starts at 3.15am. My wife and I both get up and have a light pre-dawn meal known as 'suhoor', perhaps some brown bread, eggs, avocado and a drink of yoghurt. Our son, who is nearly four, sometimes wakes and says he's hungry too, but usually both of our children stay asleep. They like to pretend that they're participating in Ramadan and tell everyone they're fasting, but children tend not to take part until they're about 12 years old.
A time for reflection
Ramadan is the most important month in the Islamic calendar, and something I've observed since I too was very young. It's a time for quiet reflection and self-discipline so, after eating 'suhoor', I often use the time to pray and read. Ramadan also encourages us to act with generosity and charity and, like many others, I donate a portion of my total annual savings to charity during this month.
Work is a 40-minute drive away from my home, and the pace of the city is noticeably slower at this time. During Ramadan the working hours of private sector employees in the UAE is reduced by two hours, and people can start at different times. It makes a big difference to the roads, streets and markets — all are much quieter during the morning lull.
The working day
Once at work, however, it's pretty much business as usual, just with a shorter six hour day. About 50% of my team take part in Ramadan. The other 50% are always observant of our culture and respectful of our fasting, so the atmosphere is supportive. When I was working in the UK and fasting, I know some colleagues felt conscious of tempting me if they happened to bring in treats to the workplace. They needn't have worried — during Ramadan, I'm actually more introspective and less likely to be tempted by these things.
Depending on meetings, I'll grab 15 minutes to go to the prayer room in our building for afternoon prayers. I try to stay mindful of my own energy levels and even though I'm generally a calm person, I make an effort to exercise even more patience during these weeks. Certainly, after 3pm, concentration levels can fluctuate so it's probably better to wait until the next morning and tackle complex business issues with a fresh mind.
During Ramadan, I leave the office at around 4.30pm. Usually, I'd work later and then play table tennis with colleagues or go swimming. These activities tend to dwindle during Ramadan. In fact, I find exercise can be a challenge so I just stick to light walks instead.
Breaking the fast — Iftar
Once the sun sets, evenings are a very social time, with restaurants booked out far in advance and incredible feasts to break the fast. I'm often invited to different events after work and have had the opportunity to visit some amazing places. For example, last night I went to an employee 'iftar' (ending the daily fast) organised by Aetna in a restaurant in the Dubai Opera which has incredible views of the Burj Khalifa and the Dubai Fountain. And, when Ramadan finishes, the next day is the Eid (the festival of breaking the fast) and we always celebrate well. There are morning prayers across the country, and we'll gather together with friends and family. All the children are spoilt with little gifts of money from adults, and we eat traditional food such as sheer kurma, a special Eid sweet of milk, vermicelli and dates.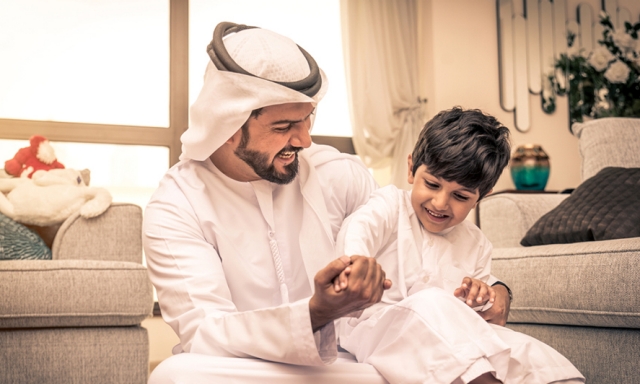 Nourishing the body and mind
Until Eid, though, I try not to indulge too much. I look forward to embracing Ramadan, and enjoy the chance to break with routine and totally overhaul my body and soul. If I'm at home early, I take the time to meditate and play with my children — yesterday, we built a castle out of magnetic tiles. At about 7.00pm, it's 'iftar' and we break our fast with dates and a light meal, some samosas or a fruit salad. My wife is a dietician and normally we choose to eat very healthily and moderately throughout Ramadan.
We then pray as a family before our dinner — last night, this was biryani with lamb and rice which I had prepared. For night prayers, I go by myself to a mosque that invites different reciters, people with beautiful voices who recite the Quran out loud. It's always a moving and meditative way to spend a few hours.
Then, it's back home where I put my clothes out for the next day, before getting into bed at about 10pm and sleeping deeply.
Source : https://www.aetnainternational.com/en/about-us/explore/current-affairs/day-in-the-life-ramadan-blog.html